Sydney Mardi Gras – 40th Anniversary 2018
Hello Sydney    
Haemosexual Wishes
Sydney Mardi Gras 2018
A
Happy 40th Anniversary
*If you are travelling to this event please take a look at the Haemosexual "Checklist" & Travel information below.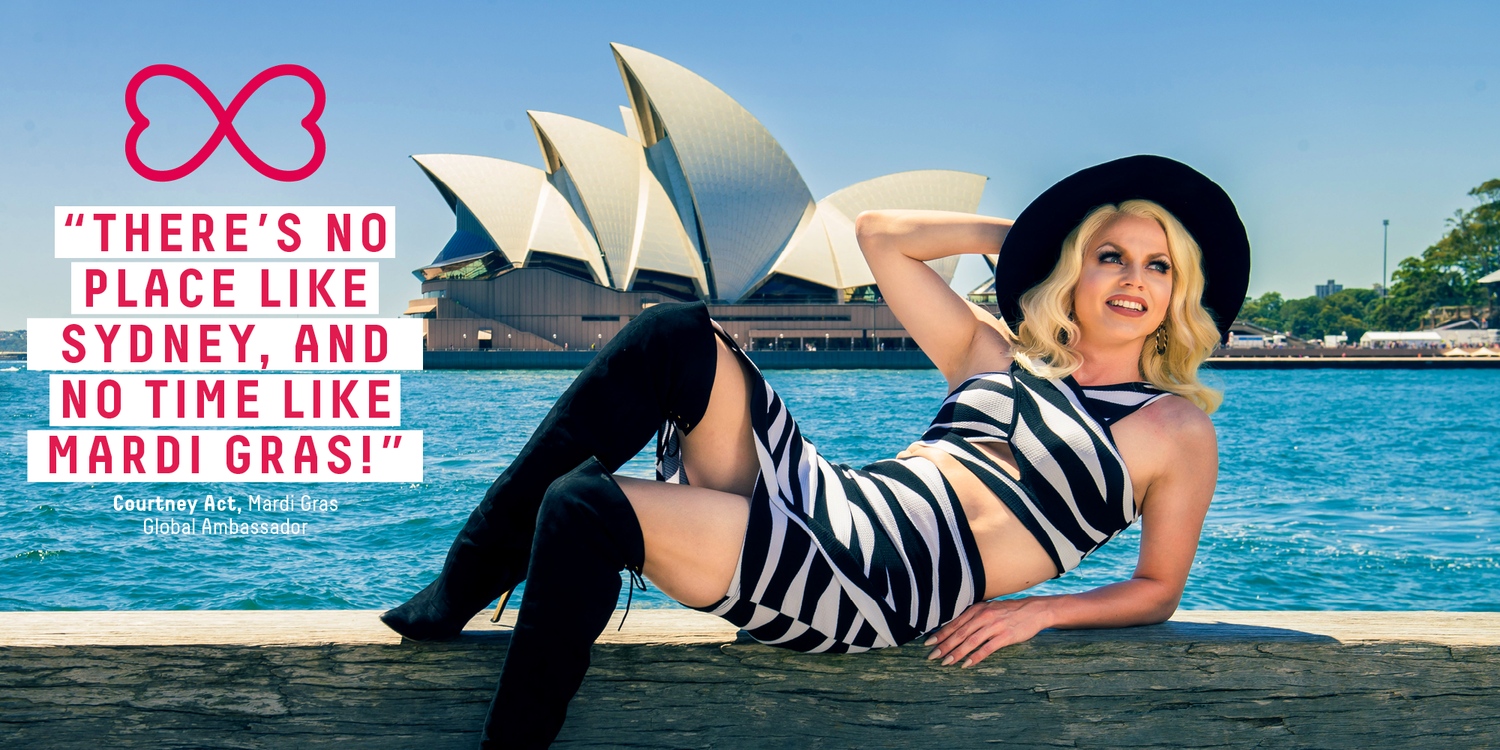 Sydney Mardi Gras 2018
What's going on?
On Friday 3 November 2017, Sydney Gay and Lesbian Mardi Gras made history, launching our incredible #MardiGras40 season on the steps of the iconic Sydney Opera House, which turned pink and rainbow for the occasion!
Guests included Jordan Raskopoulos, Narelda Jacobs, Lord Mayor Clover Moore, Trevor Ashley, Samantha Jade and Dannii Minogue.
See you at our stunning 40th anniversary Mardi Gras season 16 February – 4 March 2018! Full details at http://www.mardigras.org.au/
For one night only, clubbers will be transported to a Vogue dancefloor born from the living history of New York's underground Ballroom scene featuring local and international Vogue Houses: Slé, Fafswag, Coven & House of Envy. SISSY BALL will be soundtracked by soon-to-be-announced artists and DJs who'll weave disco, house, bounce, pop and performence throughout the evening. The houses, voguers, dancers and clubbers alike will party together in this inaugural night of style, performance and dance.
SYDNEY GAY AND LESBIAN MARDI GRAS & RED BULL MUSIC PRESENT SISSY BALL
Buy tickets here: http://bit.ly/SissyBallTix
SATURDAY 24 FEBRUARY 2017 5PM – TILL LATE
CARRIAGEWORKS, 245 WILSON STREET, EVELEIGH
Music: 'Revolter' by Angel-Ho
Directed by: Tristan Jalleh
PARADE
Saturday
March 3rd 2018
7:00 pm – 11:00 pm
PROUDLY SUPPORTED BY DESTINATION NSW
With 40 incredible years of passion, pride and protest, Sydney Gay and Lesbian Mardi Gras Parade has grown to a bustling extravaganza that brings Sydney to a standstill, and shines a light on the issues affecting LGBTQI people around the world.
The 40th anniversary Parade looks set to be the biggest and most exciting yet, with a sparkling procession of over 200 groups and jaw-dropping floats showcasing the best our community has to offer. Dykes on Bikes, outrageous drag queens, community heroes and talented queer performers will join many more LGBTQI groups and allies from all walks of life to create stunning showpieces.
Join us for our biggest night of the year. A festival of love that knows no bounds.
PARTY
Saturday                   Playbill Venues – Fox Studios
March 3rd 2018        1 Driver Ave
10:00 pm                    Moore Park NSW 2021
Sunday
March 4th 2018
8:00 am
You better Believe it! This year's Mardi Gras Party will be one for the history books! Sydney Gay and Lesbian Mardi Gras is thrilled to confirm that pop superstar, LGBTQI icon and prolific tweeter CHER will headline the Official 2018 Mardi Gras Party on Saturday 3 March, 2018.
PLUS DJs:
DJ Alex Taylor
Annabelle Gasper
Sveta
Ben Drayton
DJ Dan Murphy
DJ Dan Slater
DJ Du Jour
DJ Gemma
Kate Doherty
DJ Kate Monroe
DJ Kitty Glitter
Sezzo Snot
DJ Smithers
Stephen Allkins
Yo! Mafia
     @sydneymardigras 
     #mardigras40
     https://www.facebook.com/gaymardigras
ABC TV PREMIERES RIOT IN FEBRUARY
The highly anticipated telemovie RIOT about the first Mardi Gras march in 1978 will screen on ABC and ABC iview on Sunday 25th February at 8.30pm. 
Starring an outstanding line up of Australian talent, headlined by Damon Herriman, Kate Box, Xavier Samuel and Jessica de Gouw, Riot shines a spotlight on Australia's 1970s Gay Rights Movement and the passionate individuals who were unwavering in their fight for decriminalisation, recognition and equality.  
Based on real people and real events, Riot is a powerful and moving telemovie reflecting an important chapter in Australia's LGBTQ history. It explores the origins of the activism that led to Australia's most famous street parade.
Continue reading and watch the RIOT trailer…
http://www.mardigras.org.au/news/abc-tv-premieres-riot-in-february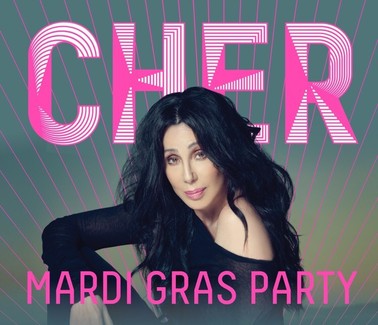 CHER TO HEADLINE 40TH ANNIVERSARY MARDI GRAS PARTY
THE 2018 MARDI GRAS PARTY IS NOW SOLD OUT. Thank you to everyone who bought tickets!
IMPORTANT: Please do not book tickets through other sites such as Viagogo and Ticketmaster Resale. They are NOT authorised to sell Mardi Gras tickets.
You better Believe it! This year's Mardi Gras Party will be one for the history books! Sydney Gay and Lesbian Mardi Gras is thrilled to confirm that pop superstar, LGBTQI icon and prolific tweeter CHER will headline the Official 2018 Mardi Gras Party on Saturday 3 March, 2018.
Described as the Goddess of Pop and one of the best-selling music artists of all time, Cher's exclusive Australian performance firmly places the world-class 2018 Mardi Gras Party as the most iconic in its history.
With a No. 1 hit record in each of the last five decades and over 100 million album sales world-wide, Cher is one of the longest-reigning divas in show business, winning a best-actress Oscar, three Golden Globes, an Emmy, and a Grammy. 
Her chart-topping hits include Believe, Strong Enough, All or Nothing, The Shoop Shoop Song, I Got You Babe, If I Could Turn Back Time, Bang Bang (My Baby Shot Me Down), Half-Breed and Gypsies, Tramps & Thieves. Alongside her incredible music career, Cher has also made her mark in television, Broadway and film, culminating with a 'Best Actress' win at the Academy Awards in 1988 for her performance in Moonstruck.
Mardi Gras CEO, Terese Casu said "Cher has established herself as an influential, hard-hitting voice in global politics, and throughout her career has been at the forefront of LGBTQI campaigns and numerous charities. Cher represents the same unapologetic and fearless freedom that makes the LGBTQI community so enduring and strong—positioning herself as a true gay icon."
Continue reading…
http://www.mardigras.org.au/news/cher-to-headline-40th-anniversary-mardi-gras-party
HONOURING OUR 78ERS AT THE 40TH ANNIVERSARY MARDI GRAS FESTIVAL
We acknowledge that Mardi Gras is built on the backs of those that came before us and that our history is our strength. We strive to celebrate the amazing community activists, leaders, creatives, staff and Boards, over four decades who have worked tirelessly for and within our community.
Each year Mardi Gras works hard to support the original 1978 Mardi Gras marchers – known as the 78ers – at events we produce ourselves. Mardi Gras provides up to $10,000 for the 78ers Float to lead the Parade up Oxford Street behind the First Nations float. For those wanting to be spectators, we also ensure a dedicated viewing space on the Parade Route with easy access to toilets as well as complimentary travel back to Central station after Parade.
Continue reading…
http://www.mardigras.org.au/news/honouring-our-78ers-at-the-40th-anniversary-mardi-gras-festival
2018 MARDI GRAS PARADE WILL INCLUDE 200 GROUPS – MORE THAN EVER BEFORE!
On Saturday 3 March, we're expecting the Mardi Gras Parade route on Oxford and Flinders Streets to fill to capacity with an estimated 300,000 spectators, watching and cheering on 200 groups involving approximately 12,000 participants.
Involving as many diverse LGBTQI groups as possible in the world-famous Parade is our goal, with applications hitting an all-time high for the amazing 40th anniversary of the event. Various groups will honour our past, draw attention to our people, relationships, stories and rights, put the spotlight on the issues affecting us, and showcase the incredible creativity of our LGBTQI communities.
Continue reading…
http://www.mardigras.org.au/news/2018-mardi-gras-parade-will-include-200-groups-more-than-ever-before
HIV/AIDS REMEMBRANCE FLOAT TO FEATURE IN THE 2018 MARDI GRAS PARADE
As part of Sydney Gay & Lesbian Mardi Gras' 40th anniversary in 2018, a number of key floats will highlight key-defining moments that have happened throughout Mardi Gras' 40-year history. One of these 40th anniversary floats will be a remembrance to those that have died of AIDS-related illnesses.
Continue reading…
http://www.mardigras.org.au/news/hiv-aids-remembrance-float-to-feature-in-the-2018-mardi-gras-parade
For more details on all the events taking place visit: