Pride Events Cancelled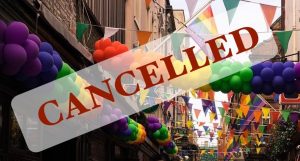 Nearly 100 Pride events have been cancelled due to coronavirus pandemic
Nearly 100 Pride events have been cancelled due to coronavirus pandemic

Pride season in June may be months away, but it has already been massively disrupted by the outbreak of coronavirus.
As of today, more than 75 events around the world have been forced to cancel or delay plans, with many more still to be announced. As many as 1,000 Prides were expected to take place in Europe alone.
The following list is compiled from information from the European Pride Organisers Association and Attitude.
United Kingdom
BFI Flare: London LGBTQI+ Film Festival 2020, London – 18/03/20 – 29/03/20 – Cancelled
Trans Pride Scotland – 28/03/20 – Cancelled
Trans Pride Leeds – 04/04/2020 – Cancelled
Trans Pride Liverpool – 29/03/2020 – Postponed with date TBA
Muslim Pride Imaan Fest, London – 11/04/2020 – Postponed to 12/12/2020
St Andrews Pride, Scotland – 18/04/2020 – Cancelled
Castlemaine Pride, Scotland – 19/04/2020 – Cancelled
Bi Pride Local, Swansea Wales – 16/05/2020 – Postponed with date TBA
Hampshire Pride, Winchester – 25/04/2020 – Postponed with date TBA
Swansea Pride, Wales – 02/05/2020 – Postponed with date TBA
Blackpool Pride, 05/06/2020 – Cancelled
Pride Picnic Cheltenham – 17/05/2020 – Postponed with date TBA
Oban Pride, Oban – 30/05/2020 – Cancelled
Oxford Pride, Oxford – 30/05/2020 – Postponed with date TBA
Bradford Pride, Bradford – 06/06/2020 – Cancelled
Coventry Pride, Coventry – 13/06/2020 – Postponed with date TBA
Pride Edinburgh, Scotland – 13/06/2020 – Cancelled
Isle of Pride, Isle of Man – 13/06/2020 – Cancelled
Sunderland Pride – 13/06/2020 – Postponed with date TBA
Salisbury Pride – 13/06/2020 – Cancelled
Sowerby Bridge Pride – 04/07/2020 – Cancelled
Sparkle Weeknd, Manchester – 11/07/2020 – Cancelled
Highland Pride, Inverness – 18/07/20 – Cancelled
Trans Pride Brighton – 18/07/2020 – Cancelled
Kings Lynn & West Norfolk Pride – 22/07/2020 – Cancelled
Dunoon Pride – No date set – Cancelled
Lochaber pride – No date set – Cancelled
Europe
Fierté Tignes, Tignes France – 19/03/2020 – Cancelled
CSD Deutschland Conference, Göttingen Germany – 21/03/2020 – Cancelled
Järvsö Winter Pride, Sweden – 21/03/2020 – Cancelled
Pride Boden, Sweden – 28/03/2020 – Cancelled
Printemps des Assoces – 28/03/2020 – Cancelled
Ireland Pride Network meeting, Dublin Ireland – 18/04/2020 – Moved Online
Vårgarda Pride, Sweden – 25/04/2020 – Postponed with date TBA
Bygdepride Ørsta/Volda, Norway – 09/05/2020 – Cancelled
Linköping Pride, Sweden – 09/05/2020 – Cancelled
Mark Pride, Sweden – 09/05/2020 – Cancelled
Katrineholm Pride, Sweden – 09/05/2020 – Postponed with date TBA
Freedom of my Identity Festival, Hungary – 16/05/2020 – Cancelled
CSD Cottbus, Germany – 16/05/2020 – Postponed until 12/09/2020
Bucharest Pride, Romania – 23/05/2020 – Postponed with date TBA
CSD Weiden, Germany – 23/05/2020 – Cancelled
Kraków Pride, Poland – 23/05/2020 – Postponed with date TBA
Sölvesborg Pride, Sweden – 29/05/2020 – Postponed with date TBA
Karlskrona Pride, Sweden – 30/05/2020 – Postponed with date TBA
CSD Saar-Lor-Lux, Germany – 06/06/2020 – Cancelled
Pride in Maastricht, Netherlands – 06/06/2020 – Cancelled
Arras Pride, France – 13/062020 – Cancelled
United States
Manatee Pride, Bradenton FL – 21/03/2020 – Postponed to 23/05/2020
NERP-POSE Pride Conference, Charlotte NC – 22/03/2020 – Cancelled
Cathedral City LGBT Days, Cathedral City, CA – 28/03/2020 – Cancelled
Tampa Pride, Tampa FL – 28/03/2020 – Postponed to 30/05/2020
Pheonix Pride – 04/04/2020 – Postponed with date TBA
Roanoke Pride – 04/04/2020 – Postponed with date TBA
Miami Beach Pride – 05/04/2020 – Postponed with date TBA
Southeast Los Angeles Pride – 22/04/2020 – Postponed with date TBA
Region 4 Pride Conference, Saint Louis MO – 27/04/2020 – Postponed with date TBA
Long Beach Pride, Long Beach CA – 16/05/2020 – Postponed with date TBA
Glendale Pride, Glendale CA – 30/05/2020 – Postponed, with date TBA
PrideFest Milwaukee, Milwaukee WI – 06/06/2020 – Postponed with date TBA
LA Pride, Losa Angeles, CA – 13/06/2020 – Postponed with date TBA
Boise Pride, Boise ID – 20/06/2020 – Postponed, now to take place 11/09/2020 – 13/09/2020
ENC Pride, Kingston NC – 20/06/2020 – Cancelled
Canada
Georgian Pride, Barrie – 27/03/2020 – Cancelled
Gender Diversity Awareness Week, Moose Jaw – 28/03/2020 – Postponed with date TBA
Peak Pride at Big White, Kelowna – 04/04/2020 – Cancelled
Innisfil Pride, Innisfil – 18/07/2020 Cancelled
https://www.pinknews.co.uk/2020/03/19/pride-season-coronavirus-cancelled-united-kingdom-states-asia-australia-europe/