THE LGBT STORIES THAT SHAPED THE WORLD IN 2016
THE LGBT STORIES THAT SHAPED THE WORLD IN 2016
From uplifting victories to devastating violence, it's been a year to remember.
It's been a year to remember: In seismic political shocks, Donald Trump won the US presidential election, and the UK voted to leave the EU. There was tragedy as 49 were massacred in a gay club in Orlando in the worst terror attack on the US since 9/11.
We also lost iconic stars who overturned our perceptions of gender, including David Bowie, Prince Pete Burns and Alexis Arquette. 2016 was a year of upheaval, change and tragedy. Here, we look back and reflect…
January
MPs say the NHS is Letting down transgender people – The first cross-party parliamentary inquiry on trans issues found that the NHS was failing in its legal duty to provide equal access to services.
March
North Carolina's infamous HB2 bill adopted – The law eliminated anti-discrimination protection for LGBT+ people, and forces trans people to use public bathrooms representing the gender they were assigned at birth (click here for more).
Ukrainian LGBT+ festival abandoned due to far-right protest – 200 members of far-right groups surrounded the venue, shouting: "kill, kill, kill!" (click here for more).
April
Founder of Bangladesh's first and only LGBT+ magazine brutally murdered – Founding editor of Roopbaan, Xulhaz Mannan, was hacked to death by a gang in the capital, Dhaka (click here for more).
Obama calls for anti-LGBT laws in North Carolina and Mississippi to be overturned – Both laws started as bills designed to enforce which toilets transgender people can use, but along the way they grew to encompass public rights for LGBT+ people more generally (click here for more).
June
Mississippi anti-LGBT law blocked by US judge one day before it was to take effect – The law protected religious objections to same-sex marriage and was deemed so broad that it would have allowed for whole-scale discrimination of LGBT+ people.
Orlando: 49 people killed and 53 wounded at Pulse nightclub in a terrorist attack and hate crime against the LGBT+ community – Omar Mateen committed the deadliest mass shooting by a single person and the deadliest terrorist attack since 9/11 (click here for more).
Black Lives Matter pulls out of San Francisco gay pride over policing – LGBT+ people of colour expressed concern at the extent of the police presence at Pride, which was heightened in the wake of the Orlando massacre.
Obama designates Stonewall Inn a monument – The declaration makes it the first ever national monument to the LGBT+ equality movement. (click here for more).
July
Gender identity clinic services under strain as referral rates soar – Figures obtained by The Guardian's freedom of information requests show the number of referrals at the Charing Cross clinic have quadrupled over the past decade.
Justin Trudeau marches in Toronto Pride parade – He became the first sitting Canadian prime minister to march at an LGBT+ Pride event (click here for more).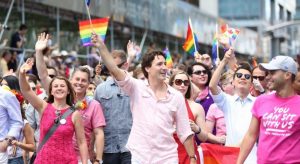 Prince William becomes the first member of royal family to be photographed for a gay magazine – Inside Attitude's July issue the Duke of Cambridge discussed the mental health implications of homophobic, bi-phobic and transphobic bullying (click here for more).
August
Prominent transgender activist Hande Kader is murdered in Istanbul, sparking protests – LGBT+ activists protested against the violence trans people face in Turkish society (click here to read more).
Ugandan police attack LGBT+ pride event and brutally assault several participants – Police locked the gates of Kampala's Club Venom and arrested more than 16 people, detaining hundreds more for more than 90 minutes (click here to read more).
September
Spain's first openly gay football referee receives homophobic death threats – Jesús Tomillero had recently returned to the game having quit after receiving homophobic abuse (click here to read more).
FA ban footballer Andre Gray for four matches after he sent homophobic and sexist tweets – Gray asked for forgiveness after the ban and stated he is now a different person to the one who posted the tweets in 2014 (click here to read more).
Bishop of Grantham becomes first Anglican priest to declare he is in gay relationship – Fourteen Church of England priests have since written to Anglican bishops urging them to unequivocally accept homosexuality and marriage equality (click here to read more).
October
Corbyn calls for LGBT+ history to be added to the curriculum – The Leader of the Opposition would make such a module compulsory in all schools (click here to read more).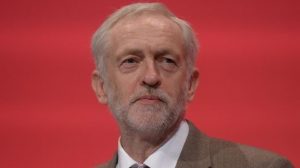 Ashers Bakery lost court appeal – The born-again Christian owners lost their appeal to overturn a guilty verdict after they were found to be discriminating by refusing to bake a pro-gay-marriage-themed cake (click here to read more).
Homophobic hate crimes more than double three months after Brexit vote – Toxicity fostered by the EU referendum result is thought to be responsible for homophobic attacks rising by 147 per cent (click here to read more).
Conservative minister scuppers the progress of bill which would pardon gay and bisexual men – The bill would have automatically pardoned all gay and bi men in England and Wales convicted of sexual offences that are no longer criminal (click here to read more).
November
Australian prime minister Malcolm Turnbull will not consider marriage equality – A plebiscite on same-sex marriage was defeated by a coalition of MPs, who did not trust the government to protect LGBT+ people during any campaign (click here to read more).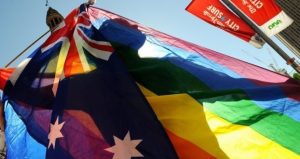 Donald Trump and anti-LGBT Republican Mike Pence elected president and vice-president – LGBT+ people in America are worried they will lose their rights as a result of the right-wing demagogues taking power (click here to read more).
NHS told it is responsible for commissioning PrEP – NHS England lost its appeal against a High Court ruling that it had the legal power to commission PrEP (click here to read more).
Read our full review of the year in Attitude's January issue, available to download and in shops now. Available internationally from newsstand.co.uk/attitude.
http://attitude.co.uk/the-lgbt-stories-that-shaped-the-world-in-2016-part-1/
http://attitude.co.uk/the-lgbt-stories-that-shaped-the-world-in-2016-part-2/