Haemosexual Australia: LGBTQ+ News
Haemosexual Australia
LGBTQ+ News
News items by Gay Nation & other sources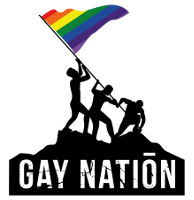 Click on the logo to sign up for news updates or visit the Gay Nation website
Australian Marriage Equality Catalyst for Stunning Light Installation at London Design Show
Neighbours Historic Same-Sex Wedding Snubbed From TV Week Front Cover
First Six Months of Australian Marriage Equality: 3,375 Couples Happily Married
Optus Continues to Foster Diversity in Business With GLOBE Partnership
The 'revolutionary' programs giving hope to LGBT domestic violence survivors
PHOTO: Gay male perpetrators of domestic violence may justify their behaviour by telling their partner that all men are violent by nature, experts say. (Rocco Fazzari)
When Elizabeth* first fell in love with Janie* nearly two decades ago, the future looked rosy. They built a home together and had two children.
But eight or nine years later, as the stresses piled up — the death of loved ones, the need to field the parenting opinions of their children's biological fathers — Janie began subjecting the family to lashings of verbal abuse.
Continue Reading:
http://www.abc.net.au/news/2018-07-12/lgbt-domestic-violence-revolutionary-programs/9978680
New Zealand Cake Maker Refuses To Bake Wedding Cake For Aussie Same-Sex Couple
Neighbours Creates History Filming Australia's First Same-Sex TV Wedding
'I'll Stand By You' – AFL Pride Match Launched By Saints and Swans
Jess Mauboy Opens the Eurovision Conversation in First Rehearsal on Stage at Portugal
LGBTI Sporting Body Accuses Rugby Australia Of Using Words Not Actions in Folau Furore
Australia Makes Same-Sex Adoption Legal Across Entire Nation
Apple's Mardi Gras iPhone X Commercial Celebrates Marriage Equality
Art Will Explode In Colour To Mark 40 Years Of Sydney Mardi Gras
First Transgender Woman To Play In Australian Football League
Australian Boxer Anthony Mundine Believes the Death Penalty Would "Deter" People From Being Gay
LGBTI domestic violence in Queensland under-reported, activists want more support services
PHOTO: There needs to be more appropriate and targeted support services for gay victims. (Flickr: Hibr)
Sleeping in her car to escape the violence in her home, Claire Smith (not her real name) realised her situation was desperate enough to turn to a women's shelter.
But the idea of having to explain to someone that she was running from her female partner stopped her.
Activists say domestic violence in the LGBTI community is under-reported, and there needs to be more appropriate and targeted support services for gay victims.
The Queensland Government has committed $155,000 towards training frontline workers to better respond to domestic violence callouts in the LGBTI community.
Family violence support services:
1800 Respect national helpline 1800 737 732

Women's Crisis Line 1800 811 811

Men's Referral Service 1300 766 491

Lifeline (24 hour crisis line) 131 114

Relationships Australia 1300 364 277
Continue Reading:
http://www.abc.net.au/news/2018-02-21/lgbti-domestic-violence-under-reported-queensland-police-say/9470388
Welcome to
Haemosexual Australia
LGBTQ+ News