Christmas 2016
Haemosexual wishes you a peaceful Christmas and New Year
As winters grip tightens the darkness seems to be taking over and for some that is exactly how they are feeling. A gradual withdrawal into a dark world of loneliness, heartache and dread. The pressures of the global holiday season never get any easier or less painful for some.
It is with compassion that I recognise the fact, not everyone is looking forward to Christmas.
Some people don't like being told to be in a jolly and festive mood from the first Christmas song played in the shops, normally sometime in October / November…Errggg
Some people are not surrounded by large wonderful families.
Some are having problems during Christmas and may be overcome with great sadness when we remember the loved ones who are not with us. Something our communities know all too well.
For many it is their first Christmas without a particular loved one and many others lost loved ones at this time.
And, many people simply have no one to spend these times with and are overcome with loneliness.
We all need understanding, caring, loving thoughts right now.
This year I am reaching out to all those who struggle through the festive period.
From Friday 23rd December 2016, I will be adding pictures, video's and other bits further down in this post, hopefully bringing a smile to your faces. Whilst at the same time sending out the message, you are not alone as I am thinking of you.
For those who will be celebrating on full throttle, have a fabulous time, play safe and take care through this wonderful / difficult few weeks.
Supportive information on how to cope through Christmas can be found below

Whatever you're going through, call us free any time, from any phone on 116 123.
We're here round the clock, 24 hours a day, 365 days a year. If you need a response immediately, it's best to call us on the phone. This number is FREE to call. You don't have to be suicidal to call us.
In 1984, pop stars of the day formed Band Aid. Their iconic opening line is as relevant today as it was more than thirty years ago.
"It's Christmas time, there's no need to be afraid"
The song also brings a sense of hope as we are reminded about those we cannot see. By coming together we can make a difference. As you listen to this song I hope it can bring you a little comfort to know you are not alone.
Have yourself a Haemosexual Christmas…
23rd December 2016
Coping with Christmas: a survival guide for when festivities are tough
Click on the link below to read Philippa's article from 2013:
24th December 2016
חנוכה שמח
Happy Hanukkah
Hanukkah is observed for eight nights and days, starting on the 25th day of Kislev according to the Hebrew calendar, which may occur at any time from late November to late December in the Gregorian calendar. It is also known as the Festival of Lights and the Feast of Dedication.
Click on the link below to read article:
Drag star Sherry Vine explains Hanukkah in Blondie parody video
25th December 2016
Happy Christmas

A little pressie for you to enjoy….. Slowly
25th December 2016
Boxing Day
Singer George Michael has died at his home at the age of 53.
The star, who launched his career with Wham! in the 1980s and had huge success as a solo performer, "passed away peacefully" on Christmas Day in Goring, Oxfordshire, his publicist said.
In memory of another much loved music icon
Rest In Peace George
25th June 1963 – 25th December 2016
"Outside" is a song by George Michael, released on Epic Records in 1998. It was released on 19 October 1998 as the lead single from his 1998 greatest hits album Ladies & Gentlemen: The Best of George Michael.
"Wake Me Up Before You Go-Go" is a song by the British duo Wham!, first released as a single in the UK on 14 May 1984. It became their first American and UK number-one hit. It was written and produced by George Michael, one half of the duo. In 2015, the song was voted by the British public as the nation's 13th favourite 1980s number one in a 2015 poll for ITV.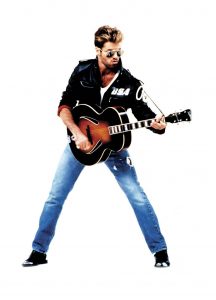 One of my many favourites 
"I Knew You Were Waiting (For Me)" is a Grammy Award-winning #1 song performed by Aretha Franklin and George Michael as a duet in 1987. It was written by Simon Climie and Dennis Morgan. It also stands as Franklin's biggest hit at Adult Contemporary radio, spending several weeks at #2.
27th December 2016
*** First single from the new upcoming DJ Hell Album "Zukunftsmusik"***
Madonna – Justify My Love – 2006
28th December 2016
The film industry and fans around the world have been paying tribute to the US actress and author Carrie Fisher, who has died aged 60 after a cardiac arrest.
She was best known for her role as Princess Leia in the Star Wars series.
Stars Wars' creator George Lucas said: "She was our great and powerful princess. She will be missed by all."
"Thank you Carrie Fisher for all that you've given us," tweeted the US Academy of Motion Picture Arts.
In memory of a movie icon
Rest In Peace Carrie
21st October 1956 – 27th December 2016
May the Force be with you Princ
ess
Watch the official trailer for Rogue One: A Star Wars Story, in which a group of unlikely heroes band together on a mission to steal the plans to the Death Star, the Empire's ultimate weapon of destruction.
29th December 2016
"Call me maybe" – Afghanistan, Royal Engineers
30th December 2016
Save a horse and ride a cowboy
31st December 2016
New Year's Eve
The world is home to various people having different natural characteristics from one another. Beauty, they say is in the eye of the beholder. So whatever you find attractive, handsome or sexy is what makes you who you are and special in your own way.
Read more here: : http://www.haemosexual.com/top-10-countries-handsome-man-world/
So..
As we now focus on the global New Year celebrations here are some photos of men I think are handsome from around the world.
Which countrymen would be in your top ten?
Email or message me with your choices and I will make an article dedicated to good looking men.
Happy New Year
Russia
Maori (New Zealand)
Indonesia 
Native American Indian (USA)
Jamaica
Egypt
New Years Celebration with the Andrew Christian Dolls, Cazwell, and Peaches