Let Me Take You Back: Television we watched in the 70's
Television we watched in the 70's
70's Advertisements
Classic British Adverts From The 1970s
70's Drama
The Sweeney
The Sweeney is a 1970s British television police drama focusing on two members of the Flying Squad, a branch of the Metropolitan Police specialising in tackling armed robbery and violent crime in London. The programme's title derives from Sweeney Todd, which is Cockney rhyming slang for "Flying Squad".
The programme was shot on 16mm film by Thames Television's film division, Euston Films. It was originally broadcast on ITV between 2 January 1975 and 28 December 1978 at 21:00–22:00 on weekdays (usually Mondays), with repeated screenings at the same time until the early 1980s. It starred John Thaw as Detective Inspector Jack Regan and Dennis Waterman as his partner, Detective Sergeant George Carter. Such was its popularity in the UK that it spawned two feature film spin-offs, Sweeney! and Sweeney 2.
General Hospital
General Hospital is a British daytime soap opera produced by ATV that ran on ITV from 1972 to 1979. It was not modelled after the American drama of the same name. Rather, it was an attempt to replicate the success of its predecessor, Emergency – Ward 10. The original theme music was "Girl in the White Dress" by the Derek Scott Orchestra which was used until 1975, when it was replaced by Johnny Pearson's "Red Alert" for the 60-minute episodes.
In 1972, ITV started to broadcast programmes on weekday afternoons, triggering a new wave of productions to fill in the extended schedules. Among the first of these shows, which were aimed at giving advertisers access to housewives, were the long-running rural soap Emmerdale Farm (YTV) and the twice-weekly medical drama General Hospital.
Set in a fictional Midlands town, the series followed the romantic and professional lives of its doctors and nurses. While the location and the characters names had been changed, in most other respects General Hospital was almost identical to its predecessor, Emergency – Ward 10, a deliberate attempt to recreate its success.
In 1975, after 270 twice-weekly episodes, General Hospital was given a prime time slot on Friday evening. The move saw the episode lengths double from 30 to 60 minutes, with each episode being more self-contained, while on-screen medical procedures, including detailed scenes of surgery, became more prominent.
Amongst the regular cast of the series was actor Tony Adams who played Doctor Neville Bywaters; he also appeared as Adam Chance in Crossroads. Among the other familiar faces to appear was Lynda Bellingham, who gained national fame as the mother in a series of commercials for Oxo stock cubes, and later as Helen Herriot in the series All Creatures Great and Small, based on the books by James Herriot. Other notable regulars included Carmen Munroe, who was also a regular presenter in the Play School children's programme team; and a young Sally Knyvette, who went on to appear in Blake's 7 and Emmerdale Farm.
By 1979, the "homely" feel of General Hospital was considered to be old-fashioned in the wake of newer, grittier dramas, and it was cancelled. Many episodes are missing from television archives[1].
Man From Atlantis
Man from Atlantis[a] is an American science fiction television series that ran for 13 episodes on the NBC network during the 1977–1978 season, following four television films that had aired earlier in 1977.[1] Ratings success by these movies led to the commissioning of a weekly series for the 1977–1978 season.[2]
The series stars Patrick Duffy as an amnesiac man given the name of Mark Harris, believed to be the only surviving citizen of the lost civilization of Atlantis.[1] He possesses exceptional abilities, including the ability to breathe underwater and withstand extreme depth pressures, and superhuman strength. His hands and feet are webbed, his eyes are unusually sensitive to light, and he swims using his arms and legs in a fashion suggestive of an underwater butterfly stroke or dolphin kick. Following his discovery, he is recruited by the Foundation for Oceanic Research, a governmental agency that conducts top secret research and explores the depths of the ocean in a sophisticated submarine called the Cetacean.
The supporting cast includes Belinda J. Montgomery as Dr. Elizabeth Merrill (who had nursed Mark Harris back to health) and Alan Fudge as C. W. Crawford, Jr., both of the Foundation for Oceanic Research. Victor Buono played the villainous Mr. Schubert in the pilot and several episodes of the series.[3] Kenneth Tigar appeared in the second, third, and fourth movies as Dr. Miller Simon, M.D., also of the Foundation for Oceanic Research. The series added an ensemble cast as "The Crew of the Cetacean", consisting of Richard Laurance Williams, J. Victor Lopez, Jean Marie Hon (who had also been seen in Ark II), and Anson Downes.[4] On the 12th episode, a new female lead character replaced Elizabeth Merrill, Dr. Jenny Reynolds, played by actress Lisa Blake Richards. The last episode did not feature any female lead character.
CI5: The Professionals
The Professionals is a British crime-action television drama series produced by Avengers Mark1 Productions for London Weekend Television (LWT) that aired on the ITV network from 1977 to 1983. In all, 57 episodes were produced, filmed between 1977 and 1981. It starred Martin Shaw, Lewis Collins and Gordon Jackson as agents of the fictional "CI5" (Criminal Intelligence 5, alluding to the real life MI5).
CI5 (Criminal Intelligence 5) is a British law enforcement department, instructed by the Home Secretary to use any means to deal with crimes of a serious nature that go beyond the capacity of the police, but are not tasks for the Security Service or military.
The choice of name CI5 is possibly inspired by Criminal Investigation Department and MI5. The premise allowed the programme-makers to involve a wide variety of villains including terrorists, hit-men, racist groups and espionage suspects, with plots sometimes relating to the Cold War. Led by the formidable George Cowley (Jackson), CI5 is known for using unconventional and sometimes illegal methods to beat criminals, or as Cowley put it "Fight fire with fire!" The use of a fictitious force in this context was somewhat less controversial than the portrayal of the real flying squad on The Sweeney.
Cowley's two best agents are Ray Doyle (Shaw) and William Bodie (Collins). Doyle is an ex-detective constable who has worked the seedier parts of London, while Bodie is an ex-paratrooper, mercenary and Special Air Service sergeant. Of the two, Doyle is the softer, compassionate and more thoughtful character, while Bodie is ruthless and more willing to take on criminals on their own terms. That said, Doyle is more hot-headed and tended to rush in, while Bodie waits for the shooting to start.
While polar opposites, Bodie and Doyle have a deep and enduring friendship, and are almost inseparable. Although their loyalty to Cowley is beyond question, they have no qualms about disobeying orders if it means getting the right result, either for the case or themselves.
Initially, Anthony Andrews was contracted to play Bodie, but he and Shaw did not have the chemistry that Clemens was looking for. As Shaw was deemed to have more 'screen presence' Andrews was dropped, and Clemens hired Collins in his place. Shaw and Collins had played villains in an episode of The New Avengers ("Obsession") together, and reportedly had not got on with each other. Ironically, since this was the reason Collins was brought into the production,[1] he and Shaw became friends off-screen, although they managed to keep up the on screen chemistry and abrasiveness of Bodie and Doyle's relationship. The Collins character had signed off in the 1977 New Avengers episode with "Maybe we should work together again. We're a good team." The first Professionals episode was produced later the same year.
Clemens intended to write two or three establishing episodes and then hand over to other writers, but their scripts were uneven and lacked the energy and pace needed. Clemens re-wrote nearly 10 scripts for the first series episodes and took a direct hands-on approach to the filming. In later series, with the format established and the writers and directors familiar with the show, he took a more leisurely approach behind the scenes.
The early years of the show featured varied plots, good scripts and ongoing character development of Bodie and Doyle and to a lesser extent Cowley, but later series featured increasingly overused ideas and script devices and both Collins and Shaw stated they felt the show was becoming stale.[1] While episodes were broadcast until 1983, episodes were actually filmed between 1977 and 1981.
Space 1999
Space: 1999 is a British science-fiction television programme that ran for two series and originally aired from 1975 to 1977.[1] In the opening episode, set in the year 1999, nuclear waste stored on the Moon's far side explodes, knocking the Moon out of orbit and sending it, as well as the 311 inhabitants of Moonbase Alpha, hurtling uncontrollably into space. Space: 1999 was the last production by the partnership of Gerry and Sylvia Anderson and was the most expensive series produced for British television up to that time. The first series was co-produced by ITC Entertainment and Italian broadcaster RAI, while the second series was produced solely by ITC.
Charlie's Angels 
Charlie's Angels is an American crime drama television series that aired on ABC from September 22, 1976 to June 24, 1981, producing five seasons and 110 episodes. The series was created by Ivan Goff and Ben Roberts and was produced by Aaron Spelling. It follows the crime-fighting adventures of three women working in a private detective agency in Los Angeles, California, and originally starred Kate Jackson, Farrah Fawcett (billed as Farrah Fawcett-Majors), and Jaclyn Smith in the leading roles and John Forsythe providing the voice of their boss, the unseen Charlie Townsend, who directed the "Angels" crime-fighting operations over a speakerphone.[1]There were a few casting changes, after the departure of Fawcett and Jackson, came the additions of Cheryl Ladd, Shelley Hack, and Tanya Roberts.[2]
Despite mixed reviews from critics and a reputation for merely being "Jiggle TV" (specifically emphasizing the sex appeal of the female leads), Charlie's Angels enjoyed huge popularity with audiences and was a top ten hit in the Nielsen ratings for its first two seasons. By the third season, however, the show had fallen from the top 10. The fourth season of the show saw a further decline in ratings; the changes could not stop the falling ratings and in 1981, after 110 episodes and five seasons, Charlie's Angels was canceled. The series continues to have a cult and pop culture following through syndication, DVD releases, and subsequent TV shows.
It also includes a 2011 television series reboot and a series of theatrical motion pictures.
Upstairs, Downstairs
Upstairs, Downstairs is a British television drama series originally produced by London Weekend Television (LWT) and revived by the BBC. It ran on ITV in 68 episodes divided into five series from 1971 to 1975.
Set in a large townhouse in Belgravia in West London, the series depicts the servants "downstairs" and their masters-the family "upstairs" between the years 1903 to 1930, and shows the slow decline of the British aristocracy. Great events feature prominently in the episode but minor or gradual changes are also noted. The series stands as a document of the social and technological changes that occurred between those 27 years, including the Edwardian period, the Suffragettes, First World War, the Roaring Twenties and the Wall Street Crash.
The show was a ratings success for ITV, and received outstanding acclaim worldwide winning multiple awards.
The Six Million Dollar Man
The Six Million Dollar Man is an American science fiction and action television series about a former astronaut, Colonel Steve Austin, portrayed by American actor Lee Majors. Austin has superhuman strength due to bionicimplants and is employed as a secret agent by a fictional U.S. government office titled OSI.[n 1] The series was based on the Martin Caidin novel Cyborg, which was the working title of the series during pre-production.[2]
Following three television pilot movies, which all aired in 1973, The Six Million Dollar Man television series aired on the ABC network as a regular episodic series for five seasons from 1974 to 1978. Steve Austin became a pop culture icon of the 1970s.
A spin-off television series, The Bionic Woman, featuring the lead female character Jaime Sommers, ran from 1976 to 1978. Three television movies featuring both bionic characters were also produced from 1987 to 1994.
Angels
Angels is a British television seasonal drama series dealing with the subject of student nurses and was broadcast by the BBC between 1975 and 1983 and was once described as the "Z-Cars of nursing".
The show's format switched to a twice-weekly soap opera format (although still seasonal) from 1979 to 1983.
Angels, in its 1979 to 1983 weekly soap format, tackled issues such as contraception, alcoholism and promiscuity as part of the nurses' lives. Angels received criticism for its unglamorous depiction of the nursing profession, but Smith defended the programme, arguing the need to address such subjects in the series. Indeed, with its sometimes hard-hitting portrayal of young nurses facing up to the demands of the profession, Angels, particularly in its soap format days of 1979 to 1983, was grittily authentic. To this end, each actress taking a part was required to work on a real hospital ward to gain experience and thus contribute to the realism of the series.
70's Comedy
Are you being served?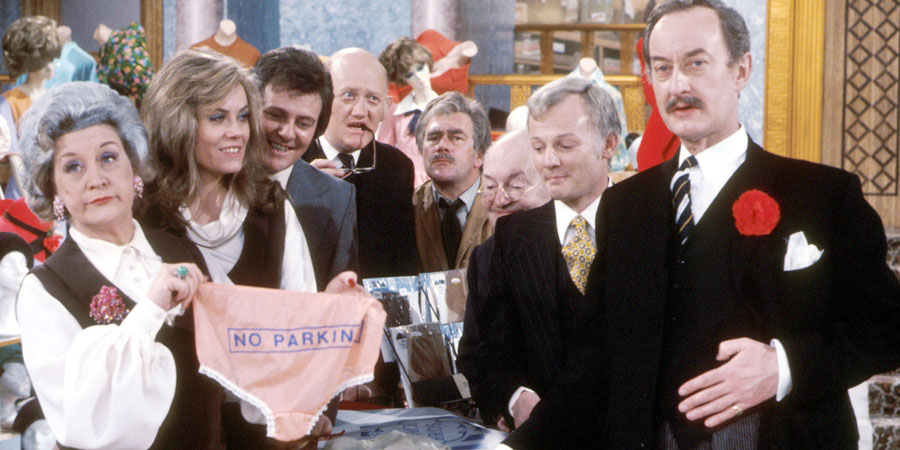 Are You Being Served? is a British sitcom created and written by Jeremy Lloyd and David Croft (Croft also directed some episodes), with contributions from Michael Knowles and John Chapman, for the BBC.[2] Set in London, the show follows the misadventures and mishaps of the staff of the retail ladies' and gentlemen's clothing departments in the flagship department store of a fictional chain called Grace Brothers.
Broadcast between 1972 and 1985 on BBC1, the sitcom spanned ten series totaling 69 episodes – five of which are Christmas specials. There was also a 1977 film, a follow-up series with some of the same main cast in 1991–92, and a one-off episode with a new cast in 2016.
Are You Being Served? was a great success in the UK and was also popular in three other countries of the Commonwealth of Nations (Australia, New Zealand, and Canada), and was successfully aired in The Netherlands and Belgium with Dutch subtitles as well. The show was also popular in Israel and in the United States, where it gained a loyal and enthusiastic following when PBS television stations began airing reruns of it in the mid-1980s, along with other British sitcoms. In it was ranked 20th in the countdown of Britain's Best Sitcom.[3] It is regularly repeated worldwide (BBC Two in the UK, PBS and BBC America in the United States; and BBC UKTV, Fox Classics and 9Go! in Australia.
The Two Ronnies
The Two Ronnies is a BBC television comedy sketch show created by Bill Cotton for the BBC, which aired on BBC One from April 1971 to December 1987. It featured Ronnie Barker and Ronnie Corbett, the two Ronnies of the title. The usual format included sketches, solo sections, serial stories and musical finales.
Rising Damp
Rising Damp is a British sitcom produced by Yorkshire Television for ITV. ITV originally broadcast the programme from 2 September 1974 until 9 May 1978. It was adapted for television by Eric Chappell[1] from his 1971 stage play The Banana Box (retained as the working title early in the series).[2] The series was the highest-ranking ITV sitcom in BBC's 100 Best Sitcoms poll of 2004.
The show was recorded entirely in front of a studio audience at Yorkshire Television Studios in Leeds, West Yorkshire and featured no scenes shot on location.
Rising Damp starred Leonard Rossiter, Frances de la Tour, Richard Beckinsale and Don Warrington.[4] Rossiter played Rupert Rigsby (originally Rooksby in the stage play), the miserly, seedy, and ludicrously self-regarding landlord of a run-down Victorian townhouse who rents out his shabby bedsits to a variety of tenants. Beckinsale played Alan Moore, a long-haired, naive, good-natured and amiable medical student who occupies the top room. Frances de la Tour played Ruth Jones, a fey, whimsical spinster and college administrator who rents another room, with whom Rigsby is in love and to whom he proposes in the last episode.
Fawlty Towers
Fawlty Towers is a British television sitcom broadcast on BBC Two in 1975 and 1979. Only 12 episodes were made (two series of six episodes each). The show was created and written by John Cleese and Connie Booth, who also starred in the show. They were married at the time of series 1, but divorced before recording series 2. The show was ranked first on a list of the 100 Greatest British Television Programmes drawn up by the British Film Institute in 2000.
The series is set in Fawlty Towers, a fictional hotel in the seaside town of Torquay on the "English Riviera". The plots centre on tense, rude and put-upon owner Basil Fawlty (Cleese), his bossy wife Sybil (Prunella Scales), comparatively normal chambermaid Polly (Booth) who often is the peacemaker and voice of reason, and hapless and English-challenged Spanish waiter Manuel (Andrew Sachs), showing their attempts to run the hotel amidst farcical situations and an array of demanding and eccentric guests and tradespeople.
Bless This House
Bless This House is a British sitcom that aired on ITV from 2 February 1971 to 22 April 1976. Starring Sid James and Diana Coupland, it was created by Vince Powell and Harry Driver, but mainly written by other hands including Dave Freeman and Carla Lane. It was made for the ITV network by Thames Television. In 2004, Bless This House was ranked by a BBC poll as the 67th Best British Sitcom.
Bless This House centres on life in Howard Road, Putney, where travelling stationery salesman Sid Abbott (note: the spelling of their surname varies; the opening credits of early series one episodes spell it "Abbot" while in the closing credits it is spelt "Abbott") and his wife Jean live with their teenagers: Mike is fresh from art college and more pre-occupied with protests than finding a job; and trendy schoolgirl Sally. Sally is 16 at the series' start, and Mike is 18. Sid and Jean constantly battle to comprehend the new generation's permissive ways and are usually out-of-touch. Their neighbours and best friends are Trevor and his wife Betty.
Porridge
Porridge is a British sitcom, starring Ronnie Barker and Richard Beckinsale, written by Dick Clement and Ian La Frenais, and broadcast on BBC One from 1974 to 1977. The programme ran for three series, and included two Christmas specials and a feature film of the same name (in the United States, the film was released under the title Doing Time). The sitcom focuses on two prison inmates, Norman Fletcher (played by Barker) and Lennie Godber (played by Beckinsale), who are serving time at the fictional HMP Slade in Cumberland. The show's title is a reference to both the traditional breakfast that used to be served in British prisons, and the British slang for serving a prison sentence – "Doing porridge".
Porridge was critically acclaimed and is widely considered to be one of the greatest British sitcoms of all time, with it being ranked No. 35 on the 100 Greatest British Television Programmes compiled by the British Film Institute in 2000. The series was followed by a 1978 sequel, Going Straight, which saw Barker reprise his character as he tries to avoid going back to prison. The show was later revived in 2017 under the same name, after a one-off special, aired on 28 August 2016 as part of the BBC's Landmark Sitcom Season and focusing on the life of Fletcher's grandson, Nigel Fletcher (played by Kevin Bishop), as he begins a prison sentence.
Some Mothers do Ave Em
Some Mothers Do 'Ave 'Em is a British sitcom created and written by Raymond Allen and starring Michael Crawford and Michele Dotrice. It was first broadcast in 1973 and ran for three series, ending in 1978, and returning briefly in 2016 for a one-off special. The series follows the accident-prone Frank Spencer and his tolerant wife, Betty, through Frank's various attempts to hold down a job, which frequently end in disaster. The sitcom was filmed in and around the town of Bedford in Bedfordshire. It was noted for its stuntwork, performed by Crawford himself, as well as featuring various well-remembered and much lampooned catchphrases, that have become part of popular culture. In a 2004 poll to find Britain's Best Sitcom, Some Mothers Do 'Ave Em came 22nd.
The wimpish, smiling Frank, sporting his trademark beret and trench coat, is married to the apparently normal Betty (Michele Dotrice) and in later series they have a baby daughter, Jessica. The character was popular with television impressionists such as Mike Yarwood in the 1970s, particularly his main catchphrase, "Ooh Betty", which is only ever said in one episode: series 2, episode 2.
"Ooh Betty …" is not Frank's only catchphrase of the series. Others include a quavering "Oooh …", usually uttered with his forefinger to his mouth as he stands amidst the chaos of some disaster he has just caused (and which he himself has invariably escaped unscathed). He also sometimes complains about being "ha-RASSed!", or occasionally, "I've had a lot of ha-RASSments lately" (originally an American pronunciation). Other recurring catchphrases include references to "a bit of trouble", which usually implies some sort of undisclosed digestive disorder, and to the cat having "done a whoopsie" (presumably a euphemism for having defecated in an inappropriate place, on one occasion in Spencer's beret). If Frank is pleased (or confused) about something, he will often use the catchphrase "Mmmm — nice!" or "Ohhh — nice!"
Despite his unfailing ability to infuriate people, Frank is essentially a very sympathetic character, who inspires much affection from his ever-loving and patient wife, Betty. He also venerates the memory of his late mother (Jessica Spencer) and worships his daughter (also named Jessica). (References to Frank's mother by people who knew her suggest that she was very like her son.)
The final series was written by Allen based on stories by Michael Crawford (not written by Crawford himself as sometimes reported) and made five years after the previous one (although there had been two Christmas specials in between). Frank's character changes noticeably in this series, becoming more self-aware and keen to make himself appear more educated and well-spoken. He develops an air of pomposity which is always best demonstrated when someone would approach and enquire "Mr Spencer?" to which he would always reply, "I am he." He also becomes more self-assured, and much more willing to argue back when criticised, and often wins arguments by leaving his opponents dumbfounded by the bizarreness of what he would say.
Acknowledging the show's success in Australia, the final series saw him begin talk of having relations there, and contemplating emigrating.
Crawford himself has talked of how he based many of Frank's reactions on those of a young child. Crawford also found it difficult to break out of the public association with the role, despite his later career as a hugely successful musical performer on the West End and Broadway stage, in popular shows such as Barnum and The Phantom of the Opera.
George & Mildred
George and Mildred is a British sitcom that was produced by Thames Television that aired from 1976-79. It was a spin-off from Man About the House and starred Brian Murphy and Yootha Joyce as constantly sparring married couple, George and Mildred Roper.[1] The premise of the series had George and Mildred leaving their flat as depicted in Man About the House and moving to a modern, upmarket housing estate. Their arrival horrifies their snobbish neighbour Jeffrey Fourmile, a middle-class estate agent who fears that the Ropers' presence will devalue his home.
It was written by Brian Cooke and Johnnie Mortimer. Like many British sitcoms of the time, George and Mildred was also made into a film, which was dedicated to actress Yootha Joyce who died suddenly in August 1980, just as the cast were about to film a sixth series.
70's Children's Television
Roobarb And Custard
Roobarb is a British animated children's television programme, originally shown on BBC1 just before the evening news. Each cartoon, written by Grange Calveley and animated by Bob Godfrey, was about five minutes long. Thirty episodes were made, and the show was first shown on 21 October 1974. The theme is that of the friendly rivalry between Roobarb the green dog and Custard the pink cat from next door.
The narration of the series was provided by the actor Richard Briers. On 17 February 2013, Briers died, followed three days later by animator Godfrey.[1][2]
Roobarb is a green dog, and Custard is a pink cat. This an inversion of the popular children's pudding (dessert) rhubarb crumble (pink) and egg custard (yellow). Roobarb is always involved in some kind of misadventure which he approaches with unbounded enthusiasm. Custard is cynical and sets out to sabotage Roobarb's fun. Which one comes out on top varies from episode to episode. Other characters in the series are the birds, who watch the antics of the other two from the safety of a nearby tree, often making snide remarks, and siding with whoever is winning. There is also a rather timid, pink mouse.
The series is animated in a deliberately rough style, using marker pens and a very sketchy drawing technique, so that the pictures are constantly moving. This effect, known to animators as "boiling", gives an energetic character to the show, and was a contrast to the slick, smooth colouring of the imported Hanna-Barbera shows that were being widely shown on British television. The series was voiced by actor Richard Briers and the famous theme tune was written by Johnny Hawksworth. It was the first fully animated television series to be made in the United Kingdom.[3] The series was later shown in reruns on the American children's television series Eureeka's Castle on Nickelodeon.
The series was an enormous success, greatly loved by children and adults alike, and winning numerous awards.[4] It is now viewed as "must watch" cult TV. The series was also known for its eccentric use of quirky word play and sight gags.
Grange Hill
Grange Hill is a British television children's drama series originally made by the BBC. The show began its run on 8 February 1978 on BBC1, and was one of the longest-running programmes on British television when it ended its run on 15 September 2008. It was created by Phil Redmond who is also responsible for the Channel 4 dramas Brookside and Hollyoaks; other notable production team members down the years have included producerColin Cant and script editor Anthony Minghella.
After 30 years, the show was cancelled in 2008 as it was felt by the BBC that the series had run its course.[1]
The drama was centred on the fictional comprehensive school of Grange Hill in the (equally fictitious) North London borough of "Northam" (although when filming moved to Liverpool in 2003, the school ceased to have any specifically named location), and followed the lives of its students as they progressed through school. The series was originally to have been called "Grange Park", which would go on to be used as the name of the school in another Redmond creation, the Channel 4 soap opera Brookside (1982–2003).
Tomorrow People
The Tomorrow People is a British children's science fiction television series, created by Roger Price. Produced by Thames Television for the ITV Network, the series first ran from 1973 to 1979.[1][2] 
A remake appeared in 1992, with Roger Price acting as executive producer. This version used the same basic premise as the original series with some changes, and ran until 1995. A series of audio plays using the original concept and characters (and many of the original series' actors) was produced by Big Finish Productions between 2001 and 2007. In 2013, an American remake of the show premiered on The CW. It is shown on E4 in the UK.
Bagpuss
Bagpuss is a British children's television series, made by Peter Firmin and Oliver Postgate. The series of 13 episodes was first broadcast from 12 February 1974[1] to 7 May 1974 through their company Smallfilms. The title character was "a saggy, old cloth cat, baggy, and a bit loose at the seams".[2] Although only 13 episodes were made, it remains fondly remembered,[3] and was frequently repeated in the UK for 13 years.[4] In 1999 Bagpuss topped a BBC poll for the UK's favourite children's TV programme.