Let Me Take You Back: 70's Music
70's Music

Pop
Elton John became the decade's biggest solo pop star,[21] releasing diverse styles of music that ranged from ballads to arena rock; some his most popular songs included "Crocodile Rock," "Goodbye Yellow Brick Road," "Bennie and the Jets," "Philadelphia Freedom and "Don't Go Breaking My Heart" (the latter a duet with Kiki Dee). Other European soft rock major artists of the decade included Cat Stevens, Fleetwood Mac and Joan Armatrading.[11][12] (See the country music section of this article for more about country music that crossed over onto the pop charts.)
One of the most successful European groups of the decade, and one of the best-selling acts of all time[22] with 380 million records sold[23], was the quartet ABBA. The Swedish group, who are still the most successful group from their country, first found fame when they won the 1974 Eurovision Song Contest. They became one of the most widely known European groups ever, as well as one of the few groups from a non-English speaking country to gain international success with several back-to-back No. 1 albums and singles in most of the major music markets. "Waterloo", "Mamma Mia", "Take a Chance on Me", "Knowing Me, Knowing You", "Dancing Queen" and "The Winner Takes It All are just some of ABBA's most popular and most successful songs.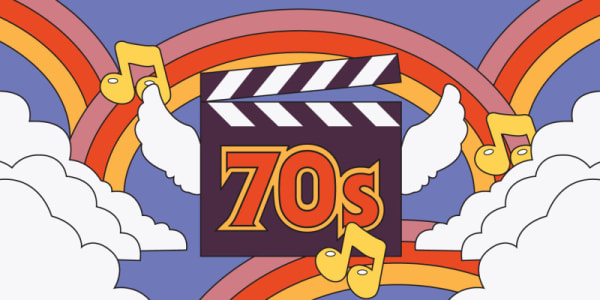 1970
Elvis Presley – The Wonder of You
Edison Lighthouse – Love Grows (Where My Rosemary Goes)
The kinks – Lola 
1971
Dawn – Knock Three Times
David Bowie – Life On Mars
T. Rex – (Bang A Gong) Get It On 
Benny Hill – Ernie (The Fastest Milkman In The West)
Rock
One of the first events of the 1970s was the break-up of The Beatles in the spring of 1970. Paul McCartney formed a new group, Wings, and continued to enjoy great mainstream success. The three other former Beatles — John Lennon, George Harrison and Ringo Starr — all continued hugely successful recording careers throughout the decade and beyond. Lennon, McCartney, and Harrison all released extremely successful solo albums in 1970, Imagine, McCartney, and All Things Must Pass, and several of their songs are listed among the biggest hits of the 1970s: Wings' "Silly Love Songs" and "My Love," and Harrison's "My Sweet Lord"."[13]
Heavy metal music gained a cult following in the 1970s, led by Led Zeppelin, Black Sabbath, and Deep Purple, with their styles later influencing other bands like Judas Priest and Motörhead, which eventually started the New Wave of British Heavy Metal in the 1980s.
Black Sabbath, formed in 1968 (as The Polka Tulk Blues Band, then Earth), is often credited with inventing the metal genre as well as stoner rock, doom metal, as well as sparking a revolution with much darker lyrics than were the norm in rock at that time.
1972
Donny Osmond – Puppy Love
New Seekers – Teach The World To Sing
Lieutenant Pigeon – Mouldy Old Dough
1973
Elton John – Crocodile Rock
Wizzard – See My Baby Jive
Shirley Bassey – Never Never Never

Progressive Rock
Progressive or prog rock developed out of late 1960s blues-rock and psychedelic rock. Dominated by British bands it was part of an attempt to elevate rock music to new levels of artistic credibility.[24] Progressive rock bands attempted to push the technical and compositional boundaries of rock by going beyond the standard verse-chorus-based song structures. The arrangements often incorporated elements drawn from classical, jazz, and world music. Instrumentals were common, while songs with lyrics were sometimes conceptual, abstract, or based in fantasy. Progressive rock bands sometimes used "concept albums that made unified statements, usually telling an epic story or tackling a grand overarching theme."[24] King Crimson as well as the Moody Blues have been seen as the bands who established the concept of "progressive rock". The term was applied to the music of bands such as Yes, Genesis, Pink Floyd, Jethro Tull, Rush, and Emerson, Lake & Palmer.[24] It reached its peak of popularity in the mid-1970s, but had mixed critical acclaim and the punk movement can be seen as a reaction against its musicality and perceived pomposity. Never-the-less, Pink Floyd's 1973 release, The Dark Side of the Moon, was an immediate success, remaining in the charts for 741 weeks from 1973 to 1988, with an estimated 50 million copies sold. It is Pink Floyd's most commercially successful album and one of the best-selling albums worldwide. It has twice been remastered and re-released, and has been covered in its entirety by several other acts. It spawned two singles, "Money," and "Time". In addition to its commercial success, The Dark Side of the Moon is one of Pink Floyd's most popular albums among fans and critics, and is frequently ranked as one of the greatest rock albums of all time.
1974
Mud – Tiger Feet
The Wombles – Remember You're A Womble
Carl Douglas – Kung Fu Fighting
1975
Bay City Rollers – Bye Bye Baby
Queen – Bohemian Rhapsody
Hot Chocolate – You Sexy Thing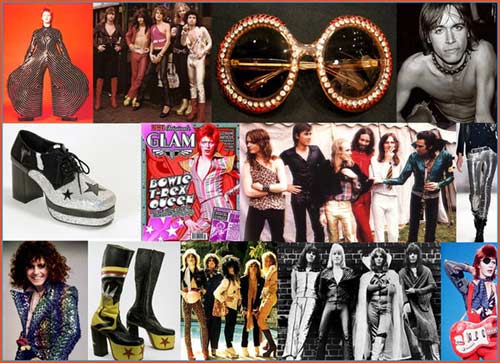 Glam Rock
Glam or glitter rock developed in the UK in the post-hippie early 1970s. It was characterized by outrageous clothes, makeup, hairstyles, and platform-soled boots.[25] The flamboyant lyrics, costumes, and visual styles of glam performers were a campy, playing with categories of sexuality in a theatrical blend of nostalgic references to science fiction and old movies, all over a guitar-driven hard rock sound.[26] Pioneers of the genre included David Bowie, Roxy Music, Mott the Hoople, Marc Bolan, and T.Rex.[26] These, and many other acts straddled the divide between pop and rock music, managing to maintain a level of respectability with rock audiences, while enjoying success in the singles chart, including Queen and Elton John. Other performers aimed much more directly for the popular music market, where they were the dominant groups of their era, including and Slade, Sweet and Mud.[26] The glitter image was pushed to its limits by Gary Glitter and The Glitter Band. Largely confined to the British, glam rock peaked during the mid-1970s, before it disappeared in the face of punk rock and new wave trends.[26]
1976
Eurovision Song Contest winners 1976
Brotherhood Of Man – Save Your Kisses For Me
Abba – Dancing Queen
The Real Thing – You To Me Are Everything
1977
Donna Summer – I feel Love
Baccara – "Yes Sir I Can Boogie"
Belle Epoque – Black Is Black

Soft Rock
From the late 1960s it became common to divide mainstream rock music into soft rock and hard rock. Soft rock was often derived from folk rock, using acoustic instruments and putting more emphasis on melody and harmonies.[11] It reached its commercial peak in the mid- to late-1970s with acts like the reformed Fleetwood Mac, whose Rumours (1977) was the best-selling album of the decade.[12] Major British soft rock artists of the 1970s included 10cc, Mungo Jerry, and Rod Stewart. Some of the most successful singers and songwriters were Cat Stevens, Steve Winwood, and Elton John.[27]
1978
Boney M – River Of Babylon
Bee Gees – Night Fever
Kate Bush – Wuthering Heights

Punk Rock
The mid-1970s saw the rise of punk music from its protopunk–garage band roots in the 1960s and early 1970s. The Sex Pistols, and The Clash were some of the earliest British acts to make it big in both the United Kingdom and the United States. Groups like the Clash were noted for the experimentation of style, especially that of having strong ska influences in their music. Punk music has also been heavily associated with a certain punk fashion and absurdist humour which exemplified a genuine suspicion of mainstream culture and values. The Sex Pistols caused a major sensation in 1977 and were the first serious challenge to the established rock groups like the Rolling Stones and Led Zeppelin, although the punk era in Britain lasted only three years and effectively ended with the Pistols' breakup.
1979
Gloria Gaynor – I Will Survive
Village People – YMCA
Buggles – Video Killed The Radio Star
Data sourced from Wikipedia