Blood donation rules relaxed for gay men and sex workers
Blood donation rules relaxed for gay men and sex workers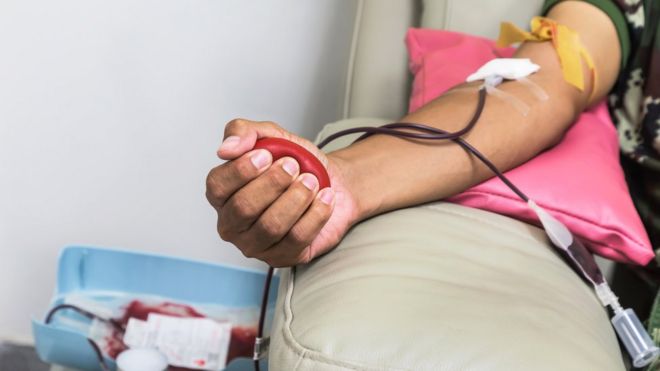 Blood donation rules for sex workers and gay men are being relaxed in England and Scotland after improvements in the accuracy of testing procedures.
Men who have sex with men can now give blood three months after their last sexual activity instead of 12.
And sex workers, who were previously barred from donating, now can, subject to the same three-month rule.
Experts said the move would give more people the opportunity to donate blood without affecting blood supply safety.
The Advisory Committee on the Safety of Blood, Tissues and Organs – which advises UK health departments – recommended the changes after concluding that new testing systems were accurate and donors were good at complying with the rules.
Three-month window
All blood that is donated in the UK undergoes a mandatory test for Hepatitis B and C, and HIV, plus a couple of other viruses.
Scientists agree that three months is a comfortably long window for a virus or infection to appear and be picked up in the blood.
Prof James Neuberger, from the committee, said: "Technologies to pick up the presence of the virus have greatly improved, so we can now pick up viruses at a much earlier stage in the infection, and therefore it's much easier to tell if a blood donor has the virus."
The rule changes will come into force at blood donation centres in Scotland in November, and in early 2018 in England.
The changes affect groups including:
men who have sex with other men

people who have sex with high-risk partners – for example, those who have been in areas where HIV is common

commercial sex workers.
They will now all be able to donate blood after abstaining from sex for three months.
The UK government is also considering relaxing the rules for people who have undergone acupuncture, piercing, tattooing and endoscopies, and for those with a history of non-prescribed injecting drug use.
But these also need changes to current EU legislation.
Over the last 10 years, there has been a 40% drop in the number of those giving blood? It's an issue that we think it's time to do something about. With 6,000 life saving blood transfusions taking place in the UK every single day, now more than ever, we need to ensure a safe and sufficient supply of blood. In November 2015, we secured a government review by SaBTO into the blood donation guidelines and we have led on the APPG on Blood Donation's Inquiry into what those guidelines should look like. Put simply, we're calling for:
A significant reduction in the current deferral period on men who have sex with men (MSM) from 12 months to 3 months;

A similar policy, in line with medical evidence, for those classified as commercial sex workers and intravenous drug users;

A commitment to review blood donor guidelines on a regular basis based on scientific evidence as part of SaBTO's remit and according to EU regulations;

A long term ambition to work towards a truly individual risk-based policy.
At FreedomToDonate, our belief is simple: those who wish to donate blood and can do so safely, should be able to donate blood.