ANDREW CHRISTIAN: The foremost authority on men's underwear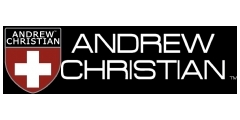 This page is dedicated to the fabulous Andrew Christian

ANDREW CHRISTIAN BIO
Since 1997, Andrew Christian is not only an iconic company, but it's also backed by a real designer! With his innovative  technologies, fit, and original designs, he has earned a spot in Inc Magazine as one of the fastest growing companies in America for multiple consecutive years.
One of Andrew's best sellers is his amazing line of technically advanced, custom woven men's underwear. It is available in street, sport, fashion, and basic-themed lines, and is available in a range of styles, including low cut, super-low-cut, boxer briefs, and more. Each style is intricately designed using specialized dye treatments, printed graphics, and innovative materials such as bamboo fiber, sports mesh, and patented, moisture-wicking cotton blends. Andrew was the first to introduce waist slimming elastic in his underwear designs and "FlashLift" Bottom-Lifting Technology.
Andrew Christian is sold in hundreds of stores all around the world, including, but not limited to, luxury department stores, such as, Nordstrom USA, Selfridges UK, Kadewe Germany, and Simons Canada.
Andrew Christian was featured on Good Morning America, Fox News, Entertainment Tonight, ABC World News with Diane Sawyer, MSNBC's Hardball, Yahoo!, Daily Mail (London), The Wall Street Journal, Maxim, NY Daily News, The Boston Globe, New York Magazine, The Los Angeles Times, LA Weekly, Dallas Morning News, and as far away as the Times of India. Andrew was also featured on Seasons 3 and 4 of the popular Oxygen reality show, The Janice Dickinson Modeling Agency. Most recently, Andrew Christian was featured on Logo, as official "Pit Crew" sponsors for the popular competition show RuPaul's Drag Race and Bravo's reality television series, The Millionaire Matchmaker, hosted by Patti Stanger.
Happy Gay Pride from the Andrew Christian Trophy Boys, let your rainbow unicorns glow bright!
Models: Arad, Cory Z, Nick Mascardo, Sean Matthew, Uriel, our first FTM trans brand ambassador Jesse Diamond
Behind the scenes of a photoshoot where the Trophy Boys get ready for PRIDE.
Andrew Christian Trophy Boy Nick gives some tips and tricks about how to use makeup to show off the manly man you are.
To shop for your Andrew Christian must have's, go to

www.andrewchristian.com

 
Andrew Christan Trophy Boy Topher DiMaggio shows his sexy slave, Arad, who's the master.
Nick's Top 10 Summer Gayssentials
Nick Mascardo goes through his top 10 gay essentials for the summer, striping down and trying each on.
MASSIVE COLLECTION 2017
Welcome To Massive 2017! This is one party that will have you on the edge of your seats, and leave you craving for more.
Man Vat:
Video: Andrew Christian – Massive Collection 2017
Song: Pet Shop Boys – Pazzo
Models: Andrew Christian, Arad, Topher Dimaggio, Cory Z., Jorge Orlando, Nick Mascardo, James, Corey Hayes, Lucas Barge, Trey Chic, Milan Christopher, Cirio Arman, Jacob Ford, Austin Watie, Cory Lee, Patrik Gallineaux
TAKE A PEEK AT ANDREW CHRISTIAN'S SCORCHING NEW COFFEE TABLE BOOK (NSFW)
The always-raunchy underwear brand may have outdone itself this time.
Andrew Christian certainly isn't shy when it comes to raunchy ad campaigns, but the underwear designer may have well and truly outdone himself with his latest project.
After a successful Kickstarter campaign, the brand has unveiled its brand new coffee table book 'Sex = Power = Freedom', and it's definitely one photography collection we wouldn't want to leave lying about when granny comes round for tea.
Featuring all of Andrew Christian's exclusive Trophy Boy models over 200-pages of skin-filled, sometimes explicit photos, the book is designed to "push the limits of sexuality" and make a statement about love and freedom in Donald Trump's America.
"Creating this art and coffee table book has been an endeavour into bringing positive awareness about LGBT empowerment and how it relates to political freedom in the USA and around the world," says Christian.
He adds: "This book isn't just sexy photos… It explains that sex is more than sex… It's power, it's emotion, it's creation, it's personal expression, it's political freedom".
Check out some of the highlights (that we can show) below – and be sure to get your hands on a copy of the full, erm, package here.
http://attitude.co.uk/take-a-peek-at-andrew-christians-scorching-new-coffee-table-book-nsfw/

Andrew Christian's "SEX = POWER = FREEDOM" Book Signing Tour [SALE]
Andrew sits down to discuss his latest work of art in the form of a 200 page black and white photography book that tackles the topics of sex, power and freedom. And also let's his fans know about his upcoming worldwide book tour.