Pride-inspired LGBT Foundation Universal 5-in-1 Multi USB Fast Charging Cable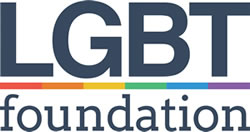 Advice Support & Information
0345 3 30 30 30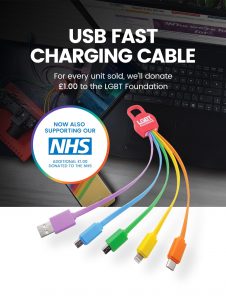 Stay Home. Save Lives. Safe The NHS.
Following the launch of our partnership with LGBT Foundation and the next generation USB fast charging 5-in-1 cable which raises £1.00 donation to the LGBT foundation with each sale, we are showing our support to the NHS, as such we are going to donate a further £1.00 to the NHS for every unit sold whilst still donating £1.00 to LGBT Foundation.

Our NHS Donation
Donation to NHS England which covers all the NHS trusts. A Crowdfunding page "Masks for NHS Heroes" has been set up by four doctors to get more personal protective equipment (PPE) supplies for the NHS. PPE includes masks, visors, surgical gowns and gloves. A JustGiving page set up by Matt Lucas, Damian Lewis and Helen McCrory aims to get hot meals to the NHS staff.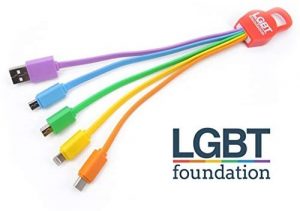 New faster charge technology, charges faster than standard USB chargers
The 5-in-1 cable fast charges all devices simultaneously
Perfect for when your devices are running low on battery and you need a quick boost or a fast full charge.
The rainbow coloured cable has been designed to show support to the LGBTQ community

Type A, Micro-USB, Type-C, Mini-USB & more

USB fast charging cable with built-in belt clipUniversal 5-in-1 multi

Lifetime Warranty