LGBTQ+ Short Films & Movies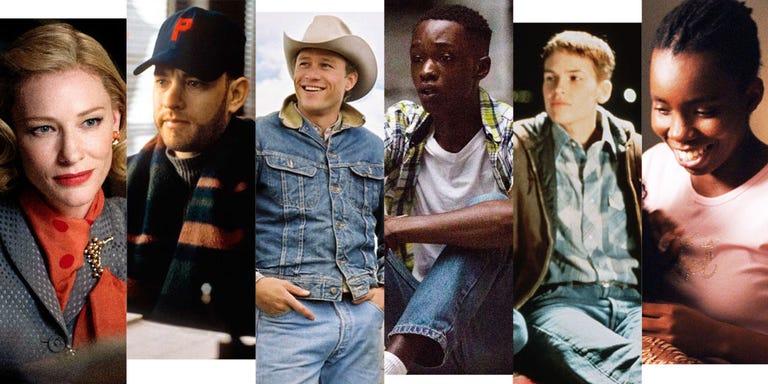 LGBTQ+ Short Films & Movies
In today's throw away society with immediate access to information, goods, services and sex some things sadly do not change. These range from the struggles of discovering who you really are. Learning that love can really hurt as well as holding the power to take over your entire life. Facing hostility, hatred and fear just for being you. 
With so many countries embracing diversity and inclusion we have the ability to almost watch our own lives being played out in cinemas or online as the growing LGBTQ+ film industry tries to capture whatever life throws at us. Whether it be discrimination or conversion therapy, love, sickness, homophobia and heartbreak. I'm sure you will find so many brilliantly produced films which you can connect with.
If you, like me can completely immerse yourself into what you are watching then I know you will also shed some tears, both from laughter, pain and anger. How can we allow such inhumanity in the 21st century?
Below are some of what 2018 has to offer.
Bohemian Rhapsody
Bohemian Rhapsody is a foot-stomping celebration of Queen, their music and their extraordinary lead singer Freddie Mercury. Freddie defied stereotypes and shattered convention to become one of the most beloved entertainers on the planet. The film traces the meteoric rise of the band through their iconic songs and revolutionary sound. They reach unparalleled success, but in an unexpected turn Freddie, surrounded by darker influences, shuns Queen in pursuit of his solo career. Having suffered greatly without the collaboration of Queen, Freddie manages to reunite with his bandmates just in time for Live Aid. While bravely facing a recent AIDS diagnosis, Freddie leads the band in one of the greatest performances in the history of rock music. Queen cements a legacy that continues to inspire outsiders, dreamers and music lovers to this day.
Mario
On the pitch Mario and Leon are teammates, off the pitch they are becoming so much more. When Leon joins Mario's football club ,the pair are moved into a flat with one another where the competitive tension turns sexual. As their relationship intensifies, the pair become inseparable, yet Mario is desperate to hide their love from his teammates. As rumours of their relationship begin to circulate, the boys are forced to make a choice; their careers, or each other. A forbidden story of romance between two football players, Mario shines a light on the pressures put upon footballers, managers and associates alike to keep quiet about players who identify as gay in favour of preserving their careers.
A Fantastic Woman
Sebastián Lelio (Gloria) returns with a groundbreaking, captivating and deeply humane story about a trans woman's fight for acceptance. Anchored by a powerhouse central performance from rising star Daniela Vega, this Oscar-nominated film is an urgent call for compassion towards a community that faces bigotry and hostility on a daily basis.
Vega plays Marina Vidal, a young singer whose life is thrown into turmoil following the sudden death of her partner, Orlando. Met with suspicion from the police and contempt from her lover's relatives, Marina finds herself placed under intense scrutiny, with no regard for her privacy, or her grief. As tensions rise between Marina and Orlando's family, she is evicted from their shared home and banned from attending his funeral. But faced with the threat of losing everything, Marina finds the strength to fight back.
From the producers of Jackie and Toni Erdmann, A Fantastic Woman is an outstanding, timely work. Soaked in luminous visuals and elevated by elegant flights of surrealism, the film recalls the very best work of Pedro Almodóvar. It is a courageous, audacious and defiant declaration of Marina's status as a woman – and a fantastic one, at that.
The Happy Prince
In a cheap Parisian hotel room Oscar Wilde lies on his death bed and the past floods back, transporting him to other times and places. Was he once the most famous man in London? The artist crucified by a society that once worshiped him? The lover imprisoned and freed, yet still running towards ruin in the final chapter of his life? Under the microscope of death he reviews the failed attempt to reconcile with his long suffering wife Constance, the ensuing reprisal of his fatal love affair with Lord Alfred Douglas and the warmth and devotion of Robbie Ross who tried and failed to save him from himself. From Dieppe to Naples to Paris freedom is elusive and Oscar is a penniless vagabond, always moving on, shunned by his old acquaintance, but revered by a strange group of outlaws and urchins to whom he tells the old stories – his incomparable wit still sharp. THE HAPPY PRINCE is a portrait of the dark side of a genius who lived and died for love in the last days of the nineteenth century.
Saturday Church
Saturday Church tells the story of 14-year-old Ulysses, a shy and effeminate boy, who finds himself coping with new responsibilities as "man of the house" after the death of his father. Living alongside his mother, younger brother, and conservative aunt, Ulysses is also struggling with questions about his gender identity. He finds an escape by creating a world of fantasy filled with dance and music.
Ulysses' journey takes a turn for the better when he encounters a vibrant transgender community, who take him to "Saturday Church," a program for LGBTQ youth. Ulysses manages to keep his two worlds apart; appeasing his aunt and discovering his passion for the NYC ball scene, and voguing, until his double life is revealed. Ulysses must find the courage to be who he truly is, all while risking losing those he cares about most.
McQueen
Alexander McQueen's rags-to-riches story is a modern-day fairy tale, laced with the gothic. Mirroring the savage beauty, boldness and vivacity of his design, this documentary is an intimate revelation of his McQueen's own world, both tortured and inspired, which celebrates a radical and mesmerizing genius of profound influence.
Rafiki
Kena and Ziki long for something more. Despite the political rivalry between their families, the girls resist and remain close friends, supporting each other to pursue their dreams in a conservative society. When love blossoms between them, the two girls will be forced to choose between happiness and safety. Inspried by Monica Arac de Nyeko's "Jambula Tree", which chronicles a story of two girls in love in Uganda, "Rafiki" challenges deep rooted cynicism about same sex relationships among actors, crew, friends, and family in Kenya. RAFIKI Trailer 2018
Believer
Believer follows Mormon Dan Reynolds, frontman for the Grammy Award-winning band Imagine Dragons, as he takes on a new mission to explore how the Mormon Church treats its LGBTQ members.
Mapplethorpe: Look At The Pictures
"Look at the pictures." With these words, Jesse Helms denounced the work of Robert Mapplethorpe. Twenty-five years later, the first and most complete documentary about the artist since his death, by acclaimed directors Fenton Bailey and Randy Barbato, does just that, with unprecedented unlimited access to his archives and work.
The Miseducation of Cameron Post
From writer/director Desiree Akhavan and based on the celebrated novel by Emily M. Danforth, The Miseducation of Cameron Post follows Cameron (Chloë Grace Moretz) as she is sent to a gay conversion therapy center after getting caught with another girl in the back seat of a car on prom night. Run by the strict and severe Dr. Lydia Marsh (Jennifer Ehle) and her brother, Reverend Rick (John Gallagher Jr.)—himself an example of how those in the program can be "cured"—the center is built upon repenting for "same sex attraction." In the face of intolerance and denial, Cameron meets a group of fellow sinners including the amputee stoner Jane (Sasha Lane), and her friend, the Lakota Two-Spirit, Adam (Forrest Goodluck). Together, this group of teenagers form an unlikely family as they fight to survive.
Love, Simon
Everyone deserves a great love story. But for seventeen-year old Simon Spier it's a little more complicated: he's yet to tell his family or friends he's gay and he doesn't actually know the identity of the anonymous classmate he's fallen for online. Resolving both issues proves hilarious, terrifying and life-changing. Directed by Greg Berlanti (Dawson's Creek, Brothers & Sisters), written by Isaac Aptaker & Elizabeth Berger (This is Us), and based on Becky Albertalli's acclaimed novel, LOVE, SIMON is a funny and heartfelt coming-of-age story about the thrilling ride of finding yourself and falling in love.
A Kid Like Jake
Brooklyn parents Alex (Claire Danes) and Greg (Jim Parsons) are lucky to have a kid like Jake. Their four-year-old is bright, precocious, creative—and just happens to prefer Disney princesses to toy cars and skirts to jeans. Jake's "gender expansive" behavior—as local preschool director Judy (Octavia Spencer) dubs it—is no big deal to Alex and Greg. Or so it seems, until the process of navigating New York City's hyper-competitive private school system opens up a parental quagmire: could Jake's gender nonconformity be just the thing that gives their child an edge in the admissions game? How young is too young to put a label on a child's identity? Is this just a phase, or is Jake truly transgender? Split in their opinions on how to handle the situation, Alex and Greg find themselves navigating an emotional and ethical minefield with one patch of common ground between them: their fierce desire to do what's right for Jake. Transparent director Silas Howard helms this timely, honest, emotionally rich look at 21st-century parenting.